Slot Game Auto-play Ban – Changes from UK Gambling Commission
The constant changes to betting regulations since the introduction of the UK Gambling Commission (UKGC) in 2007, has been the biggest impact to the industry as a whole. With online betting's rapid growth over the last twenty years, there was a clear need for improvements in the transparency of a number of areas, more specifically their bonuses and related conditions.
The feelings generated by previous UKGC changes have been a mixed bag, with some finding them to be a much-needed improvement and other believing them to be a hinderance. This isn't just the verdict of the industry and sites alone; many customers find the changes to be bothersome. One such amendment was the banning of credit card payments, which many saw as unnecessary.
With the unexpected arrival of the Covid pandemic, we in the industry thought we'd get a reprieve from the next lot of restrictions. But sadly, we were mistaken, because the UKGC brought in their 'package of strict measures' which had to be in place by the 31st October 2021. These changes were said to not only protect the player, but also enhance controls on online slots.
Throughout July 2020 the UKGC worked alongside a number of organisations and groups such as GamCare. This public consultation led to the realisation that more changes were needed, specifically, 'a way to make online games safer by design'. What resulted was a review on the risk intensive play elements of online slots and how they influenced bettors.
As you can imagine the immediate response from gambling operators was denial because they opposed the connection between auto-play and an increased risk of gambling addiction. The UKGC obviously did not agree and instead found that the majority of players were at risk of harm.
If you're wondering how this will impact you and your gambling time, then we are here to explain. If you are a slot fan then you will have already seen the changes introduced, but it's always worth knowing why.
The UK Gambling Commission Changes from 31st October 2021
Auto-Play is Banned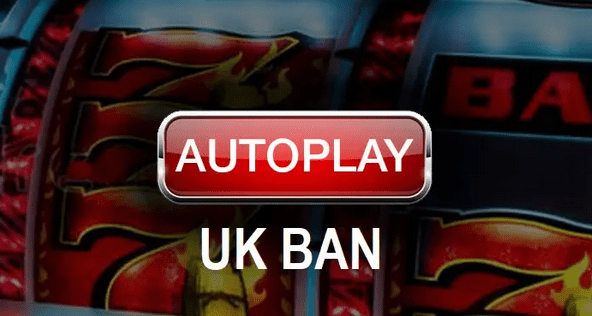 Auto-play is a function on games that many players have heard of, but some aren't exactly sure what it is. If you choose auto-play during your gaming time, then you will find that the reels spin continuously until the credit runs out. You don't have to repeatedly click the spin button every time you want to play, it is all done for you.
Not only is auto-play an incredibly popular option for players who hate the repetitive clicking of the spin button. But many online operators raised that it is an important element for gamers with disabilities, who struggle to repeat an action.
Many also use auto-play so that they can play multiple games at the same time. To give you an example, you could be playing bingo and clicking there whilst you're auto playing a slot game. You couldn't do this if you had to click both at the same time, because bingo normally has an element of time restriction to it.
Now you know what it is, you can probably understand why the UKGC and GamCare have such a problem with it. Because there is no action in terms of clicking needed with auto-play and the game does all of the work for you, you can end up spending a lot more than you wanted. This was especially evident in those with gambling addictions who struggled to pull themselves away from the game. Then consider that you can play two games at once, which means you're essentially betting twice the amount in one sitting.
The removal of this option now means that when you bet you must click that button. So, players have to consciously think about what they're doing, because they will see the amount of credit they have, slowly tick down. By making them aware of their decisions it will hopefully deter gamblers from betting too much of their own money and to leave the game once their credit has run out. But also, they should enjoy their online gambling, because it will last longer, and they can take their time.
Minimum Game Cycle Speed to Be At Least 2.5 Seconds
The best place to start is by explaining what a game cycle is, which is the period of time between you hitting spin and then being allowed to hit spin again. Before the amendments the game cycle was basically automatic, meaning as soon as the spin etc finished, you could press play again. The new rules from the UKGC now means that there will be a 2.5 second wait. So, after hitting spin you will have a gap before being allowed another go, even if the original spin completes in less time than that.
This small change will have a big impact on gamblers, because they will now play at a slower speed, so hopefully they shouldn't wager through their money as fast. The slowing down of the game cycle process should lead to more controlled betting.
Speed Up Features
This change can affect players in two ways, firstly the removal of any turbo buttons which bypass elements of the game such as animations, and results in speeding up the game play. The other area is the illusion given to the gambler that they have control over the outcome of the game. Examples of this can be difficult to explain because it's not an easy one to pinpoint. How someone is influenced is quite subjective, but sites have already began making changes to bonus features. They're specifically focusing on areas such as the option to pick a bonus hidden under a symbol. The player will feel that they have total control over their choice, because they have picked one of a number of symbols. In reality the selection made by the player has no impact on the game, because the outcome has already been determined by the Random Number Generator (RNG).
Most sites have pick-me options, and it tends to be a fan favourite in most slot games. The only resolution to this is by removing the choice element of the game and instead simply giving the player the prize when they have won.
Reverse Withdrawals
Most changes brought in by the UK Gambling Commission do tend to shock us, but the removal of reverse withdrawals was something we whole heartedly agree with. Many addiction charities criticised it's use during the consultation, so it came as no surprise that the UKGC decided it needed to go.
Reverse withdrawals impact a player when they choose to remove their winnings. They would hit the cash out button and then be informed that there is a set time period before the cash out process will begin. This time period was introduced so that players could retract the withdrawal, and instead use the money for more gambling time.
During the consultation the UKGC found that gambling sites were using reverse withdrawals as an enticement for players to keep gambling rather than removing their winnings. As such it was seen to pose a threat for the most vulnerable who struggled to resist the urge to bet. Now this has been removed, it means that once you cash out, your winnings have to be sent to your account. You will no longer have the option to change your mind, so if you decided you wanted to use it for credit then you would need to add the money again from your bank to your casino wallet.
Removal of Sounds and Imagery Which Create an Illusion of a Win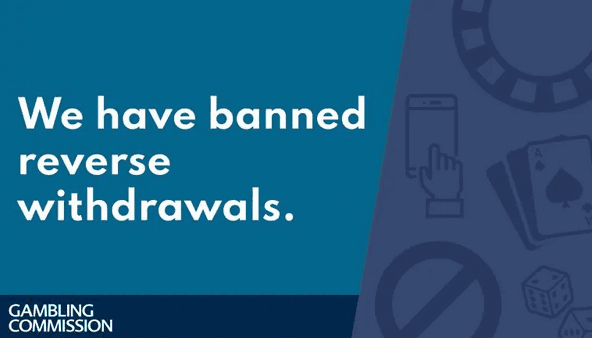 This was an interesting one, which didn't even register with us until we read the UKGC's findings. If you win less than or equal to your original stake, then the betting site can no longer celebrate it as a win with sounds or imagery. To make it easier here's an example of what we mean. You have paid £1 to spin on a slot game, and you win 50p, you have basically ended up with 50p less. Normally the game would signal a celebration with images and sounds because you won the 50p. But now you will only hear and see this if you won more than the original stake, for example £1.50.
Total Losses Must Be Clearly Displayed for the Player
For many gamblers with addictive tendencies, the main problem is stopping themselves from spending more than they wanted to or can afford. Sadly, this is made worse by the fact that many games don't display how long you have been gambling and the total amount you have wagered in that session.
This has now changed, and all sites must provide a display on the screen which states how much the player has lost. It should serve as a constant reminder and will hopefully provide a positive influence on them to stop betting when they can no longer afford it.
UK Gambling Commissions Response to the Changes
As you can see this consultation led to a lot of changes within the gambling industry which will have an impact on the sites themselves, but also and more importantly the players. The main area which has caused derision within the sector is the removal of auto-play because many operators felt it was unfair. Their main point of contention is the fact that removing auto-play would penalise players with certain disabilities. This had no impact on the UKGC who explained that their priority was to protect vulnerable players.
This was backed by the Chief Executive of the UK Gambling Commission who said that 'drastic action' was needed and "to make online games safer we are introducing a ban on features that speed up play or give the illusion of control over the outcome. We are also introducing a ban on auto-play, losses disguised as wins, and slot spin speeds faster than 2.5 seconds. This is another important step in making gambling safer and where the evidence shows that there are other opportunities to do that, we are determined to take them."
Summary of Slot Game Auto-play Ban
As always with the UK Gambling Commission, these changes give us an idea of what we can expect in the future. We've seen fundamental legislative amendments made since the UKGC started, and their goal has always been to protect the vulnerable and reduce the societal impact of gambling addiction. What will the next lot of changes be, we have no idea, but we can be sure that the UKGC will make them without hesitation and thought to the impact on operators.
The key question is, will the changes made have any influence on the level of addiction in the UK? This is something that will take time to establish, so we will just have to see. Experts within the industry feel that removing auto-play will cause players to spend more money, because they have more control over their betting rather than setting it for a specific amount. Because auto-play gives you a gap in your gaming time, you should spend less, whereas now the gambler will repeatedly click the play button without much attention to the amount they have spent.
We feel that the most problematic amendment to adapt is the illusion of control, because this can be difficult to determine and may lead to a loss of many of our favourite slot games.
Even though you have many who are unhappy with the changes, there are others who are delighted. There will always be concerns raised with any big changes, especially when the things we like are removed. Personally, we enjoyed the pick-me options on slot games as it provided an extra bit of excitement, so this is something we will be sad to lose. But the overarching focus should be on those vulnerable players, and that is why consultations are important.
For further information on the recommendations and responses to the regulation changes, check out the UK Gambling Commissions paper.
For those of you who have enjoyed this article then we have plenty more, including Source of Wealth Checks on Online Casino Sites and Pachinko Games Online.