What Are Scatter Symbols in Slots
If you've ever gambled online, then you will probably have come across the term 'scatter symbol'. For those who haven't, then this is a great time to discover what they are because scatters are commonplace in the world of online slots. We're here as always to give you everything you need to know about what scatter symbols are and how they influence your slot game.
The use of scatters in slots helps to attract new players to a game, because they create an exciting bonus element. The normal process of winning on a slot, is having a set number of symbols land on a pay line. But this can take some time and players end up getting bored. Landing a scatter symbol will bypass this process, because for many slots they only need to appear once for you to win. It could lead to you receiving free spins, entry into a mini game or a raft of other bonuses.
So, lets dig deeper into what are scatter symbols in slots and why can you find them on pretty much every online slot game?
How Scatter Symbols Affect Slot Games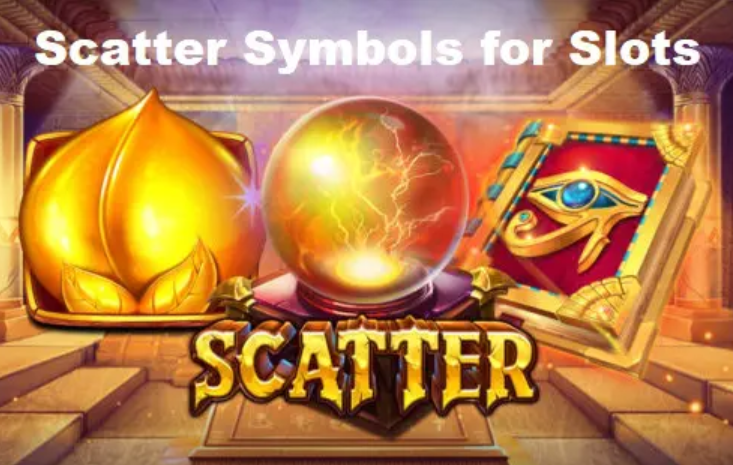 As we have mentioned above, within a slot game you have pay lines and ways, which tend to begin from the left of the reels. You will win if you line up three or more symbols on the reel in a specific pattern. Details of how to win can always be found within the games pay table, so we'd recommend taking a look there before you play.
Designers of slots wanted to add a little more excitement and find a way to break up the basic reel pattern, so they introduced the scatter to modern slots. Originally on fruit machines it was a red cherry symbol, and it wasn't bound by the same restrictions as the others.
Within the majority of slots, the scatter is the highest paying symbol and if you land a set number then you will receive a bonus. In most games it tends to be 3, 4 or 5 scatters, but some slots have set arrangements or patterns which will trigger the bonus round. You will find that the scatter is designed as a representation of the game. Designers love to go all out, so for example on Piggy Riches from NetEnt you will find the Lady Pig with her many gifts and in Cleopatra it is the Sphinx.
If you land the scatter, then on most slots you will trigger the bonus feature. This will vary depending on the slot, but it tends to be an interactive game. There are some though which don't offer a bonus round and you will instead be paid a set number of coins for winning a combination including the scatter.
You'd be surprised to discover that there are some slots that don't have scatter symbols. They are generally the older style 3-reel option, but you can establish if the slot you're playing has a scatter by checking out the pay table. If you've never heard of a pay table before, it basically the rules on how the game works, such as how to win, pay outs and of course the symbols.
What this all means is that each game will vary and what you will see on one, you shouldn't expect to see on another. This is when research is needed and checking that pay table, especially if you're looking for a specific type of slot. If you're already registered on a casino site, then why not try out the demo option first and see how the game plays. We'd also recommend checking out the return to player (RTP) and the volatility of the game.
On most slots with scatter symbols, you will find that they have larger payouts, but this means a lower RTP and a higher volatility or variance. Because of this you should see bigger wins, but they won't be often.
Scatter Symbols on Video Slot Games
The revolution of online slots has been exponential over the last couple of decades, many of us still remember the basic reels and symbols. Video slots created another layer of excitement to the gambling experience and brought the games to life. Many designers introduced exciting story lines and bonus features with video clips, animation, and 3D graphics.
Summary of What Are Scatter Symbols in Slots
With online games developing so rapidly, the old-style basic reels don't seem to cut it anymore. Gamblers have much higher expectations, which is why extras such as wilds and scatters were created. They added a new level of interest to slot games, as well as extra ways to win bonus credit and free spins.
Our advice before you sign up with any new gambling site is to check that they are licensed by the UK Gambling Commission (UKGC). By being a member of the UKGC you have an assurance that the site is following their strict guidelines which have been created to protect players. To establish if they are registered, you can either check the site itself or go to the UKGC page which has a search option available.
Some of our favourite options are.
These reputable gambling sites provide players with an ample choice of games, all from the top designers. Most games will come with a scatter bonus, because it has become a staple within the industry for a very good reason. Next time you play your favourite slot you'll probably see the added value the scatter brings.
As well as this guide we have others including Why are Credit Card Payments Banned on UK Gambling Sites, What are Progressive Jackpots and Slot Game Autoplay Ban.